About Us
Are you in fourth or fifth grade and love to sing and perform?
Are you ready to learn some cool songs for a performance at the Spring Celebration?
If so, then the Golden Star Choir is for you!
We can't WAIT to see you!
Love
Mrs. Bennett, Miss Jessica, Mrs. Santilli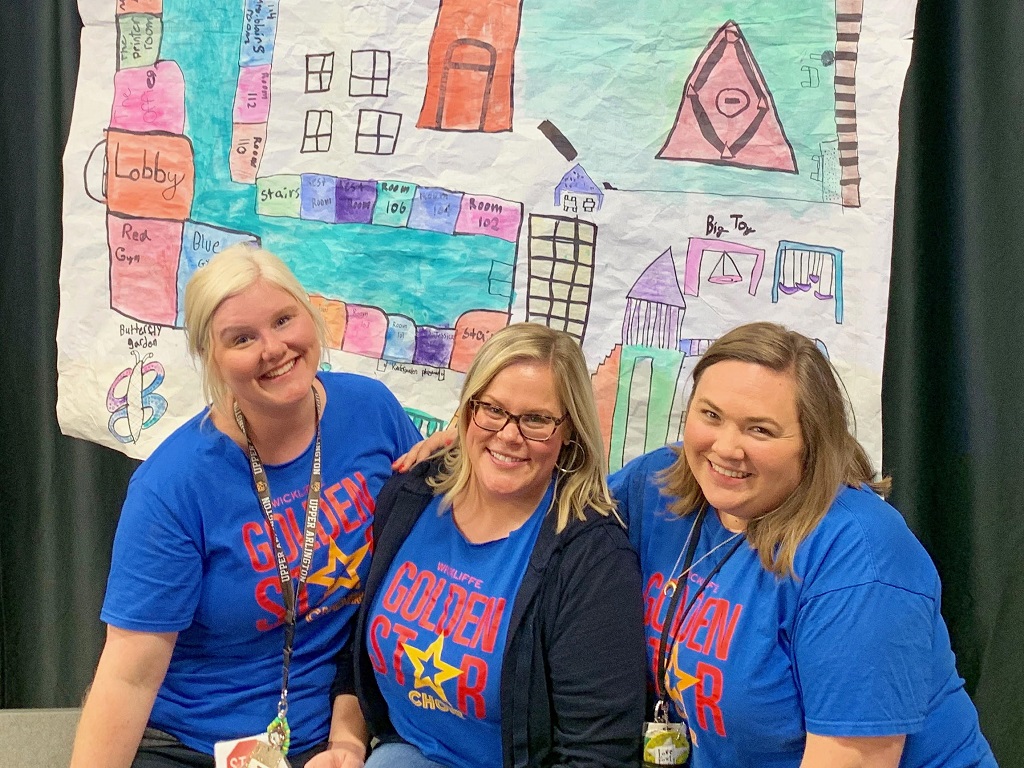 Lyrics
Please practice the songs below! We will add more after the break!
This is how we do it
No School Like Wickliffe
Dance Steps
Frequently Asked Questions
When does the choir rehearse?

We will begin lunchtime rehearsals during the first week of January. Upstairs 4/5 classes will rehearse on A Days, Downstairs 4/5 classes will rehearse on E Days. Rehearsals will begin at 11:05 and last until 11:35. They will take place in the upstairs music room. You will eat lunch afterwards.

We will also rehearse after school most Mondays from 3:00-4:00. These rehearsals are for all fourth and fifth graders who are available. You will need to have a ride home promptly at 4:00, so please make sure that you arrange this. After school practices will also take place in the upstairs music room. These after school rehearsals will begin on Monday, February 7. On weeks when we have Monday off (2/21 and 3/21), we will not have after school practice.

When will the choir perform?

We will perform at Town Meeting and Spring Celebration on Friday, May 13. We will have a Spring Celebration rain date of Saturday, May 14, as we will be performing outside. We will not have a rain date for the morning Town Meeting show, and will move it indoors if the weather doesn't cooperate. We will keep you posted if we are able to invite families inside for that if need be.
Parent Information
Below you will find a parent information packet which provides key information such as dates/times of performances & practices. Additionally, you will find a google doc permission slip that must be completed for your child to participate.
Contact
If you have any questions, comments or concerns not addressed above please feel free to contact us!